Denver is one of the most popular destinations in Colorado. Whether you're visiting for business or pleasure, there's no better way to get around than with a party bus rental from Denver Charters. We provide affordable transportation options for groups of all sizes and budgets. If you are looking for the best party buses and limos in Denver, Colorado we have what you need! When it comes time to plan your next trip, don't stress out about finding transportation options that meet your needs. Skip the lines and crowds at the airport by taking advantage of our airport shuttle service—it's fast, easy and reliable! Trust us when we say that once you try our van rentals for rent or luxury SUV rentals you'll never want to go anywhere else again!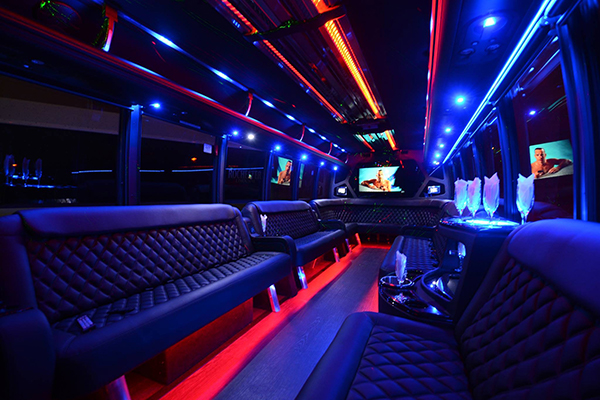 Party Buses
If you are traveling to Denver, Colorado, take advantage of the city's rich history and diverse attractions. The modern capital city is home to a number of museums and galleries, including the Denver Art Museum and History Colorado Center. Don't miss the Colorado State Capitol building or the Denver Mint. If you want to explore nature while visiting Denver, there are plenty of parks like City Park and Cheesman Park that offer hiking trails as well as great views from their peaks. To enjoy some fun nightlife in downtown Denver or any other neighborhood in the city, check out our party bus rentals today!
Party Bus Rentals in Colorado
Party bus rentals are a great way to celebrate life's biggest moments and make special memories with friends and family, whether it be a birthday, bachelor or bachelorette party, wedding rehearsal dinner, anniversary or just because. At Denver Charters we have all types of luxury vehicles to accommodate your transportation needs. We have a wide range of party buses to choose from so you can find the perfect fit for whatever occasion you may be celebrating. Our prices start at $110 per hour (plus tax) which includes the driver fee and fuel cost. If you need more than one vehicle for your group then that will be an additional fee depending on what type of vehicle(s) are needed for your specific event or occasion. We offer flat rate pricing for groups between 2-15 people who only need one vehicle during their time with us! This means not having any hidden fees when using our service! There's also no minimum amount required; so if there are only two people coming along then there is no problem either! Just call us today.
Party Buses and Limousine Buses For Rent
Are you looking for a party bus or limo bus rental in Denver? Here is your guide on how to find the best deals on charters that will fit your needs. What is more fun than having a group of friends together riding around town drinking champagne and talking about what happened last night at Club X? How about if they do it while sitting on plush leather seats listening to music with surround sound from their own personal DJ? That would be pretty cool wouldn't it? If this sounds like something that could make your trip extra special, then chartering one of these amazing vehicles may be just what you need!
Denver Party Buses Near Me
Denver is a great place to be for a party bus trip. Denver is full of attractions and venues that you can enjoy with friends and family on your trip. The best way to experience all that Denver has to offer is by renting one of our party buses near me! Our fleet of vehicles are well-maintained, reliable, and ready to take you anywhere in the city. If you want to go sightseeing or exploring some new restaurants or bars, then we have what you need!
Luxury Party Bus Options
Party buses are a fun and convenient way to get around the city. They provide convenience and luxury, as well as safety and privacy. You can rent party buses to celebrate any occasion: your birthday, bachelor/bachelorette parties, corporate events, or just a night out on the town with friends. Party buses have TVs and other amenities that make them great for watching movies while you're traveling through Denver's beautiful scenery!
Party Bus Pricing
The number of people on the bus and whether or not you want a chauffeur make up the bulk of your party bus pricing. If you do decide to hire a driver, he or she will drive the bus for you and also provide narration throughout your trip.The cost for an empty charter is generally less than $100 per hour, but it increases significantly if there are many passengers on board. When determining prices, make sure to tell us how many passengers will be riding in your party bus so we can give you an accurate quote! We also offer additional services such as bar setups and music systems that can cost anywhere between $150-$250 depending on what kind of equipment we'll need to use and our distance from Denver's surrounding cities like Boulder or Boulder County (where these towns sit).
Limo Sprinter
The pricing for a limo sprinter depends on the type of vehicle you choose. The price varies based on the size of the vehicle and how long you want to rent it. If you're looking for something smaller and more economical, then a party bus would be a good choice for your group. You can find several different types of party buses in Denver including luxury bus rentals, party truck rentals and party van rentals. You will have access to multiple entertainment options (such as televisions or DVD players) when booking with these vendors who offer this option as well as make sure they have enough space so everyone can fit comfortably inside without feeling cramped or uncomfortable at all times during their trip which could ultimately lead them being less excited about going on future rides like this one again!
First Class Service
You deserve first class service and transportation. You won't find a better way to make your party bus rental experience in Denver, Colorado any more enjoyable than with our company! We have all the amenities you could want and more, but what really sets us apart from the competition is our commitment to providing exceptional customer service. Our drivers are some of the best in the business (and they're generally very friendly folks), and we offer first class vehicles that are always clean and well maintained. If you want an unforgettable night out on the town with friends or family, we can make sure it happens for you!
Executive Party Bus Rentals
Executive Party Bus Rentals Denver is the premier provider of luxury party buses in the Denver area. They have a huge selection of different models, all with their own unique features and amenities. If you're looking for an incredible way to see the sights of Denver and its surrounding areas, then this company should be your first stop on your journey. They offer both regular size buses as well as mini buses that are perfect for smaller groups or when you only want to travel short distances.
Executive Party Bus Prices Explained
As you can see, there are a lot of factors that go into calculating the price of an executive party bus rental. The size and amenities of your vehicle will certainly impact the price. So will the length of your rental and where it's located. You'll also pay different rates depending on whether or not your trip falls within peak travel times like weekends, holidays, or sporting events.
Airport Transportation
If you are looking for a way to travel from the airport to your hotel, or vice versa, then a shuttle bus rental could be the answer. Airport transportation and transfer buses for rent. Airport shuttles are one of the most popular means of transportation for travelers who want to get from their arrival gate at Denver International Airport (DIA) and their hotels in downtown Denver as quickly and easily as possible. The airport shuttles take passengers directly to their destination, eliminating any need to wait for taxis or public transportation after arriving at DIA. They also allow passengers who have already booked an airport transfer with a company like us.
Bus Shuttle To The Venue With Wedding Transportation
When you choose Denver Charters, we will make sure your wedding shuttle is the first thing on your mind. We have a special team that takes care of all the details so you can worry about other things. Our team knows where to pick up and drop off, who needs to be there when, how many people are coming (and in what order), and everything else in between. You don't need to stress out about it at all; we'll take care of it for you. We know that this is an important part of your day—that's why we make sure our shuttles are top notch! You want something reliable and comfortable for everyone traveling with you from Denver Charters so they can get from A-to-B safely without any problems along the way. When it comes down to it though, we really think having someone drive around town while intoxicated isn't always the best idea…especially not when they're doing their job as an employee or volunteer at one of these events!
Coach Bus Transport For Sport Teams
Coach buses are great for sport teams. They are ideal for travel to away games, and make it easy for your team to stay together on the road. A coach bus can easily accommodate a large group of people, and is especially helpful when planning multiple trips in a short period of time. Coach buses are also popular among sporting events. You can use these vehicles to transport spectators to the stadium or arena where their favorite team will be playing! If you're hosting an event, consider hiring coaches as part of your transportation plans so that everyone arrives safely and on time!
School Bus Rentals For Perfect School Trips
As a parent, you want your children to be safe and secure during their school trips. School buses are the best way of ensuring this safety and security. A school bus rental is therefore ideal, especially among big schools where the numbers are quite high. When renting a bus from us, we will do everything possible to ensure that your child has a memorable experience on board our vehicle. We understand that parents worry about their child's safety when they go on field trips or other extracurricular activities outside the classroom environment because it may expose them to different risks than what they get in school itself where there is supervision at all times by teachers or chaperones who can help mediate any conflict situations before things escalate into something worse like fights between students involved in competition with each other over bragging rights over who has better grades among other things
Easy Transportation For Fraternity Events in Party Buses
Party bus rentals are a great way to transport your group. When you rent a party bus from Denver Charters, you can rest easy knowing that you'll get exactly what you're looking for out of a transportation option. We offer an impressive selection of vehicles and amenities, so there's sure to be something for everyone in your group!
Affordable Homecoming Bus Rentals
Denver Charters offers homecoming bus rentals for those looking to celebrate their alma mater in style. Homecoming is an important time of year for the school and its alumni, as it celebrates both the past and future of a school's traditions. It has been said that homecoming is a time to reflect on how far you have come as an individual while also looking forward to what lies ahead in your life. Denver Charters can help you celebrate this special season by providing you with comfortable transportation that will take your group straight from one destination to another without having to worry about parking or traffic congestion along the way.
Travel Comfortably With Pub Crawl Minibuses
Traveling with a group is always more enjoyable when you have the right vehicle. It's also safer, as there are fewer chances of getting into an accident or being lost. If you're going on a pub crawl in Denver, consider renting a party bus from Pub Crawls and Charters for your group. You'll be able to travel comfortably without worrying about driving or parking issues. The buses are stocked with drinks and food so that everyone can enjoy themselves while they're out on the town in Denver, Colorado. They also come equipped with TVs so that passengers can watch their favorite sports matches while they enjoy their drinks on board!
Limo & Bus Rental Prices in Denver
| | |
| --- | --- |
| Vehicle | Rental Pricing |
| 6 Passenger Limo | $110-$145 hourly* |
| 8 Passenger Limo | $120-$155 hourly* |
| 12 Passenger Limo | $125-$165 hourly* |
| 18 Passenger Minibus | $140-$170 hourly* |
| 20 Passenger Party Bus | $150-$200 hourly* |
| 25 Passenger Party Bus | $160-$220 hourly* |
| 30 Passenger Party Bus | $180-$260 hourly* |
| 30 Passenger School Bus | $145-$240 hourly* |
| 50 Passenger Coach Bus | $150-$240 hourly* |
| 56 Passenger Charter Bus | $150-$260 hourly* |
*Prices vary greatly depending on the city and state of your service. Due to COVID-19, rental prices shown in past estimates may not reflect actual pricing which may be significantly higher depending on availability.