Colorado Charter Bus Rentals and Bus Company
Denver Charters is the premier charter bus and mini bus rental company in Colorado. We offer a wide range of ground transportation options for your trip, from buses to minibuses to motorcoaches. Our experienced team members are committed to providing you with the best possible experience, whether you're renting a bus for a corporate event or looking for a mini bus to take your family on vacation. We specialize in customizing your rental to suit your group's needs, no matter how large or small it may be. Our 24-hour reservation team will connect you with our vast network of transportation logistics so that we can organize an efficient and personalized trip for you. Our wide selection and wide range of ground transportation vehicles will ensure that we have the right vehicle for whatever your group requires: corporate events, weddings, sporting events, road trips—you name it! Don't settle for less than Denver Charters when planning your next big outing!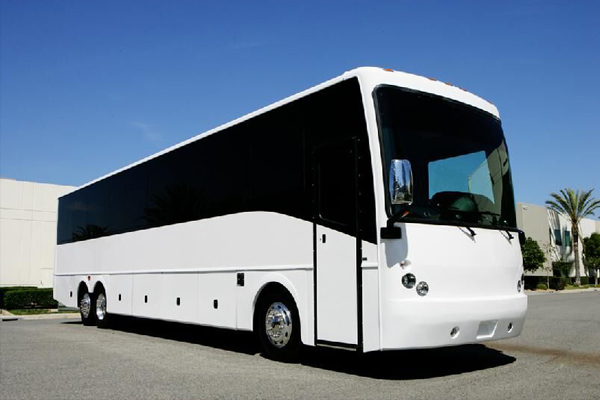 Denver Charter Buses
Denver Charters is a leading bus rental company in Denver Colorado. We provide luxury and cheap charter buses that are ideal for group travel, sightseeing and other needs. Our fleet consists of more than 20 vehicles ranging from luxury limousines to motor coaches with full amenities. We have been in business and have served tens of thousands of satisfied customers over the years. Our company is family owned, operated by two brothers who grew up in Denver and have lived there most of their lives. Denver Charters provides door-to-door service for your convenience and peace of mind. If you need to get from one place to another without any hassles or delays, then don't hesitate to contact us today!
Why Choose Denver Charters for your bus rental?
You're not alone if you're looking for a reliable bus rental company in Denver. There are many companies that offer charter bus rentals to the public, but none of them can match the convenience and value that Denver Charters can provide. A trusted option for both business and leisure travelers alike, we have been providing high quality bus rentals. Our mission has always been to make travel easy for our customers by offering them an extensive selection of vehicles at competitive rates and offering superior customer service before, during, and after their trip. Denver Charters offers several different types of vehicles including: Mini buses (5-20 passengers). Mid coaches (21-50 passengers). Luxury coaches (51-60 passengers). Our fleet is composed primarily of new model vehicles with full amenities such as wifi access, leather seating options, GPS navigation systems and even satellite television service! When it comes time to reserve your next charter bus rental from Denver Charters we hope you'll consider all these reasons why choosing us will help make your next trip one that runs smoothly from start to finish!
Charter Bus Pricing Explained
The cost of your charter bus rental will depend on a few factors. First, the size of the vehicle—the larger it is, the more people can fit inside and the more money it will cost you to rent. Second, how long you need transportation for—the longer your travel time, generally speaking, the more expensive your trip will be. Thirdly and finally, how many passengers are traveling with you (and whether or not they require their own seat). Each of these things contribute to what's known as "charter bus pricing." Prices are based on three main components: passenger numbers; duration of service; and vehicle size. The way these three variables interact determines how much each group will pay per hour or day when booking charters from Denver Charter Bus Service Incorporated . Generally speaking though prices should be listed in terms of passengers per hour since most customers want information about price per person rather than total hourly cost per vehicle
Denver Minibus Rentals
Denver has many great attractions and things to see, but it can be difficult to get around if you don't have your own car. Denver Minibus Rentals are available at a reasonable price, and they offer high-quality service. Denver minibus rental prices are based on the size of the vehicle that you need. These prices are determined by how many people will be riding in the vehicle, whether or not it will be used for an extended period of time (such as for airport transportation), and whether or not there is another driver available who needs to rent a car as well. The services provided by Denver Minibus Rentals include: Airport Transportation – If you need help getting from one place in town to another without having to worry about finding parking or navigating traffic yourself, this could be exactly what you need! Airport transportation services keep all their drivers up-to-date on any changes that might occur before pick up so no surprises come along when everyone gets off their flight! They may also offer shuttle service between airports if yours does not have direct flights into DIA (the main hub).
Mini Bus Pricing
The price of a mini bus will depend on the number of seats. For example, if you have a large group that is traveling together and would like to stretch out in the vehicle, then a 15-20 passenger limousine may be more suitable for you. However, if your party is smaller and needs more space for luggage or other items such as golf clubs or bikes then a larger rental vehicle such as an SUV or even a full size van could work better for your needs. The cost per seat will also vary between different types of vehicles with some models being more expensive than others due to their unique features such as leather interiors or premium sound systems. The prices listed below are based on average rates offered by reputable companies within each category so they should give you some idea what to expect when planning your trip:
Motorcoaches
There are many different ways to explore the city, but a motorcoach rental is one of the best ways to do it. Whether you're traveling with family or friends, a motorcoach rental is an affordable way to get around this beautiful city. A motorcoach rental makes getting around Denver easy because they can hold up to 49 passengers at once and come equipped with WiFi and audio visual systems. With these amenities, your trip will be more enjoyable than ever before! Motorcoach pricing can change depending on the type of motorcoach that you want as well as how long you plan on renting it for. There are three types of motorcoaches: standard buses; luxury coaches; and wheelchair accessible buses (WAB). The standard bus is what most people think about when they hear "motor coach" but there are other options available for those who want something nicer or more convenient than what a normal bus provides.
Motorcoach Prices
Motorcoaches are the most expensive of all three options, but they're also the most luxurious and comfortable. They have more leg room and storage space than standard buses, making them a great choice for your trip to Denver. This is why when you choose to rent a bus from Denver Charters, you're getting much more bang for your buck! Our motorcoaches come with everything from Wi-Fi connectivity to power outlets so that you can keep your devices charged while on the road. We even have heaters inside so that no matter what time of year it is, our passengers will be warm enough throughout their entire journey!
Charter Bus Rental Services
Denver Charters is the best charter bus rental service in Denver. Our rates are the lowest, our buses are the newest and most modern, and we offer exceptional customer service. We know that you have many options when it comes to choosing a charter bus company, but if you want to get the best value for your money on every trip, then choose Denver Charters!
Airport Transportation
Denver International Airport (DEN), Arapahoe County/Pearl Municipal Airport (APA), Buckley Air Force Base (BFK), Centennial Airport (APA), Colorado Springs Airport (COS) and Front Range Airport (FTG).
Shuttle To The Venue With Wedding Transportation
Chariots For Hire offers wedding transportation with shuttles, limos and buses. We provide a Wedding Shuttle Bus Rental service at affordable rates to help you get your guests to their destination in style and comfort. Our Wedding Transportation Services include: Wedding Shuttles – for large groups traveling together or an individual passenger who wants the best ride possible! Our Chrysler Town & Country vans have lots of room so that everyone can spread out, relax, enjoy the scenery and arrive at their destination refreshed. Limos – if your wedding party has more than 10 people or prefers to be driven by a professional chauffeur rather than drive themselves we can accommodate them by providing stretch limousines for larger numbers or classic models.
Coach Bus Transport For Sport Teams
Here are some of the reasons why sports teams use motorcoaches to transport them to and from games: Motorcoaches are a great way for teams to bond. When you travel together in a large group, you can have more fun and connect with each other better than if you were traveling alone or with just one or two other people. Sports teams need space because they often have equipment such as hockey sticks, volleyballs, basketballs and footballs that they need to carry around with them. If they're on a plane or train there isn't usually enough room for this stuff so having all their equipment in their own motorhome makes life easier for everyone involved.
School Bus Rentals For Perfect School Trips
School bus rentals are a great way to take your school trip, especially if you're looking for something that's safe, comfortable and affordable. When you rent a school bus from Denver Charters we'll make sure you get the best possible service – no matter where in Colorado or beyond it is that you want to go! Our school buses come in all sizes so that no matter how many kids need transportation we can plan accordingly. We have large buses with up to 80 seats as well as smaller models with only 24 seats available for those who don't need such an enormous vehicle for their excursion. The beauty of renting with us is that once your payment has been received there's no more worrying about getting stuck with expensive fines if something changes at the last minute – just call us and let us know what changes might be necessary so we can plan accordingly!
Government Charter Bus Rentals
If you're a government employee who needs to get to work on time, but would rather not deal with the hassle of driving yourself or taking public transportation, we can help. Our charter buses are ideal for government employees and those who need extra room for their disability equipment or service animal. We also offer special government employee rates when they call us directly or book online using our easy booking system.
Book Corporate Travel Coach Buses
Business travel is an important part of the business world. A corporate travel bus is a great way to travel with your employees. Corporate travel buses are a great way to travel with your employees, who will appreciate the comfort and convenience of this type of vehicle, which typically features high-quality interiors and amenities like Wi-Fi access.
Prom and Formal Shuttle Service
We offer prom and formal shuttle services to make your special occasion memorable. We know how important these events are to you, so we want to make sure that everything goes off without a hitch! Let us take care of all the details for you so that all you have to do is show up looking fabulous! When they meet up with the other members of their team at the designated meeting point, they'll start driving toward their destination using one of our luxury rental vans or limousines—depending on what type of vehicle would best suit your needs for this occasion.
Travel Comfortably With Pub Crawl Minibuses
Denver is a great city to visit. There are many fun attractions, great food and beer, and plenty of bars. If you're looking for an affordable way to see the sights while enjoying the best Denver has to offer, then minibuses are your best bet! Minibuses provide travel comfortability with Pub Crawl Minibuses. Cheers!
Ongoing Employee Shuttle Bus Service
For organizations with multiple locations, employee shuttle buses are the perfect solution for transporting employees to and from their regular place of work. This service can be used as a temporary or ongoing solution. The frequency and duration of your travel needs will determine which type is right for you. Flexible options allow us to customize a plan that works best for your organization, including: Daily shuttles between an office location and other areas throughout Denver; these trips may include locations such as subway stations or airports (depending on the specifications you provide) Temporary services available during peak times such as holidays, summer vacation season etc.; this option allows employees who normally commute via car or public transportation easy access
Attractions in Denver Colorado
The Denver Zoo is home to more than 600 animals and offers several different ways to see them. You can explore the zoo by foot or bicycle, in a kayak, or on an electric car. The zoo also has picnic areas and play spaces for children, as well as special events throughout the year such as holiday celebrations and summer camp programs for kids. The Denver Museum of Nature & Science is located in City Park near downtown Denver Colorado.
Airports We Service in Denver Colorado
Denver Colorado has a lot of airports that you can choose from, but we believe the best way to get around is by car rental. But if you do decide to fly in, these are some of the airports we serve:
Denver International Airport
Stapleton International Airport
Eagle County Regional Airport
Aurora Municipal Airport
Broomfield Industrial Park Airport (Broomfield)
We also service Centennial, Colorado Springs and Craig Municipal Airports.
Limo & Bus Rental Prices in Denver
| | |
| --- | --- |
| Vehicle | Rental Pricing |
| 6 Passenger Limo | $110-$145 hourly* |
| 8 Passenger Limo | $120-$155 hourly* |
| 12 Passenger Limo | $125-$165 hourly* |
| 18 Passenger Minibus | $140-$170 hourly* |
| 20 Passenger Party Bus | $150-$200 hourly* |
| 25 Passenger Party Bus | $160-$220 hourly* |
| 30 Passenger Party Bus | $180-$260 hourly* |
| 30 Passenger School Bus | $145-$240 hourly* |
| 50 Passenger Coach Bus | $150-$240 hourly* |
| 56 Passenger Charter Bus | $150-$260 hourly* |
*Prices vary greatly depending on the city and state of your service. Due to COVID-19, rental prices shown in past estimates may not reflect actual pricing which may be significantly higher depending on availability.